Healthwatch Lancashire Head on Tour to Hear Your Views on Health and Social Care
Healthwatch Lancashire is to attend a number of venues across Lancashire to collect people's views on health and social care services using our new easy read feedback form. We are attending hospitals, community forums and colleges to name a few.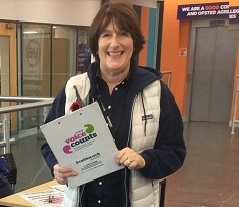 We want to gather as much intelligence from the public about their views on health and social care services as possible. So far we have been to an inpatient setting in east Lancashire, Preston College and two forums for people with learning disabilities; East Lancs Link and Leyland Link. This has totalled 50 items of feedback about their experience of local services and has already resulted in an action to delve deeper in to the delivery of some services.
We are ensuring that we have a good spread of engagement across Lancashire with Amanda Higgins focusing on the e ast of the county whilst Nick Colledge and Sue Turley are focusing on central Lancashire as well as Fylde and Wyre North Lancashire. Engagements in west Lancashire will begin in January 2020.
Over the next 6 weeks, we will be at a range of hospital settings including Clitheroe Community Hospital, Pendle Community Hospital, Chorley and South Ribble Hospital, Royal Lancaster Infirmary, Blackpool Victoria Hospital and Clifton Hospital. We will also attend Pendle Seniors Group in east Lancashire and The Bay Dementia Hub in Lancaster.
Amanda Higgins, Senior Engagement Officer for Healthwatch Lancashire said "we can't wait to get back out speaking to people in Lancashire about their experiences of local health and social care services. Although we have always ensured a substantial level of engagement on specific projects, we want to increase generic feedback on services such as GPs, hospitals and care homes to ensure these are heard and actioned upon wherever possible. With this engagement, we hope to show what people think of services in Lancashire and highlight any barriers people have when trying to use them."
This engagement marks the beginning of a continued action to regularly engage with the public and collect their views on health and social care services. All feedback captured will be added to our website and presented to services to help them develop and improve, based on the feedback shared by the people that we speak to.