Report published that captures views from over 3,600 young people around their health and wellbeing.
"Everyone is too stressed to be happy"
Healthwatch Lancashire has published a report that captures the views of over 3,600 young people around their health and wellbeing.
The report comes as part of a six-month-long project with the aim of giving service providers insight in to what health and wellbeing issues are of concern to young people and what they think and feel about the services they receive.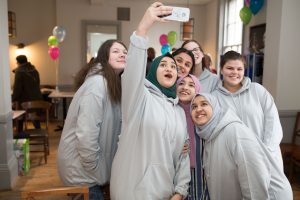 Results show the biggest worries for young people are:
Experiencing a mental health condition
Self-harming
Concerns about their self-image
Taking drugs
Young people told us that spending time with their family helped them to stay happy and healthy.
Recommendations from young people included more and better quality mental health services; to be listened to by health services and at school or college; and to have better access to health information and advice, such as how to find a therapist or getting information on eating disorders.
The project saw staff and volunteers from Healthwatch Lancashire and Healthwatch Blackpool engaging with 3614 young people in a variety of settings and groups including McDonalds, young people's forums and at local colleges.
Amanda Higgins, Senior Engagement Officer at Healthwatch Lancashire who led on the Young People's project, said: "Healthwatch Lancashire is here to make sure all people in our communities are listened to and this project amplifies the voice of our young people.
"This report identifies areas where health services, or access to these services, can be improved for our communities.
"The young people's voice will enable us to challenge local health providers, using this significant intelligence to suggest that things do indeed need to be improved."
The full report 'Young People Have Their Say' can be read and downloaded here.
Facebook: Facebook.com/lancshealthwatch
Twitter: @HW_Lancashire