What's hot and what's not in Lancashire? Tell us your burning health and social care issues!
Healthwatch Lancashire is looking for people to have their say on health and social care by telling us what your hot topic or burning issue is.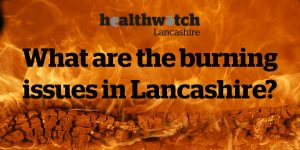 The public voice on health and social care, Healthwatch Lancashire, wants the residents of Lancashire to get involved with a new campaign by sharing their thoughts about health and social care online and via social media.
You can tell us about your experiences by completing the online survey at https://www.surveymonkey.co.uk/r/whatshotinlancashire or via Twitter @Lancs_Healthwatch using the hashtag #whatshotinlancashire.
The Healthwatch Lancashire team will also be looking to hear from the people of Lancashire'during engagement activities in all areas of Lancashire within health and social care services to encourage people to take part in the campaign.
The aim of this project is to take a 'Temperature Test' on the various communities to find out what the most important issues are to people regarding their health and social care. We will be looking at what's hot and what's not. We will be using this intelligence to help inform our new workstream and to assist further targeted and specific work in each locality.
The findings from the temperature check will be shared with key stakeholders such as Lancashire County Council to either confirm what they know or identify new priorities for service improvement.
Kerry Prescott, Projects Manager at Healthwatch Lancashire, said: "Healthwatch Lancashire has the role of listening to real experiences from real people in Lancashire, which is what our #whatshotinlancashire campaign is all about. We want people in Lancashire to share about care.
"This engagement work demonstrates the important role Healthwatch Lancashire plays in ensuring health and social care services improve by listening to patient and public views and opinions."
To find out more on how to leave your complaints and feedback, and the impact your views have, visit our website at www.healthwatchlancashire.co.uk