Lancashire's learning disability communities have their say on health and social care services
Healthwatch Lancashire has published a new report that highlights the feedback from 330 people with learning disabilities about their health and social care experiences.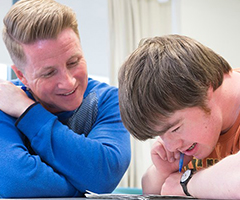 The aim of this project was to hear the views of those who consider themselves to have a learning disability or autism, their families, carers and those who know them well, to find out what's important to them in terms of their health and social care, with a specific focus on hospital passports.
The most common theme for both individuals with learning disabilities or autism, as well as those who support those people, were issues around communication and awareness.
This included pre-appointment communication, such as letters, as well as communication during appointments. Many people mentioned additional staff training in learning disabilities and autism, including learning to use Makaton, and promoting the use of hospital passports.
Findings in the report also highlight that the majority of people we spoke to do not have, or were unsure whether they had, a hospital passport (58%).
From those who did hold a hospital passport, 63% said it was either not used or they were unsure if it was used.
Despite this, 69% of the individuals with a learning disability or autism said they found staff to be 'excellent' or 'good'.
The full report, 'Learning Disability Report' can be read and downloaded online at: https://healthwatchlancashire.co.uk/reports/reports/