Lancashire project receives national recognition in Healthwatch Network Awards
Members of the Healthwatch Lancashire team attended the annual Healthwatch England Conference 2018, held in Stratford-upon-Avon, earlier this week to learn about best practice and hear updates on innovative projects addressing health and care issues in the NHS and related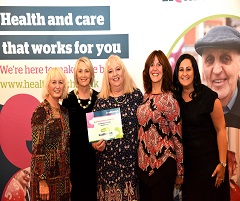 support services from around the country.
During the conference the Lancashire contingent delivered a showcase presentation alongside four other Healthwatch in the category '(Championing diversity and inclusion), Understanding the needs of a community that is seldom heard', as part of the annual Healthwatch Network Awards.
Based on the outcomes of the project, the Lancashire team collected the runner up slot, just pipped to the post by the overall winners Staffordshire, with fellow Healthwatch from East Sussex, Hampshire and Oxfordshire collecting highly commended awards for their projects.
The Lancashire diversity and inclusion 'Learning Disability Project' focused on improving communication in hospitals for patients with a learning difficulty. The team alongside Blackpool Healthwatch identified the need to carry out a programme, which focused on listening to people within the community with a learning difficulty so that their opinions could be heard in relation to the way they wanted to access health and social care services in their area.
Kerry Prescott, Healthwatch Lancashire's Manager, said: ''We are immensely proud of the work we have and continue to undertake across Lancashire. Receiving recognition from our peers, especially when 170 award submissions were made this year reaffirms that we are doing the best we possibly can for the people who use care services across the county.''
She added: ''The work Healthwatch undertakes across the country is only as strong as the feedback we receive from the people who use our local health and care services. This vital feedback helps us ensure that the community voice is heard and fed back to service providers to help shape care provision and service delivery for the future.'' 
Jane Mordue, Chair of Healthwatch England, said: ''The Healthwatch Network Awards are a fantastic opportunity to celebrate this work, highlighting the difference local Healthwatch have made by using this wealth of intelligence to help decision makers target their efforts to make things better. This year we received some outstanding entries from the network. We were impressed by the quality and incredible range of work on show and they all highlight the real impact we can have when people's experiences are placed at the heart of the services they receive.''