Inpatients rate East Lancashire Hospitals best in region
Inpatients rate East Lancashire's five NHS hospitals as the best in Lancashire and South Cumbria, according to new data from the NHS Friends and Family Test (FFT) survey.
In the 12 months to July 2018, 98 per cent of inpatients recommended the treatment and care they received at East Lancashire Hospitals NHS Trust (ELHT), the highest rating of any NHS Trust in the region, and among the highest in England.
 
ELHT's impressive ratings were the opinion of 28,364 people who stayed in hospital for at least one night between August 2017 and July 2018.
Kevin McGee, ELHT Chief Executive, said: "It is excellent news to know that our inpatients really value the quality of care we provide as being among the very best in the country.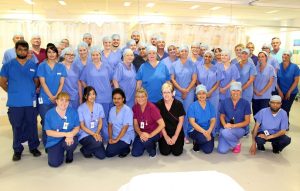 "Delivering high quality care at the right time and in the right place depends upon the skill and commitment of our staff, as well as our ability to listen to – and learn from – patient feedback, including the NHS Friends and Family Test.
 
"In recent years, we've improved the hospital environment for inpatients by investing significantly in new facilities, the latest medical equipment and high quality staff. The result: a better experience for our patients and a better working environment for our staff." 
ELHT's top-rated performance is based upon the opinions of 47 per cent of Trust inpatients who responded to the NHS Friends and Family Test during 2017-18, almost double the national average (24 per cent).
"One very important reason why a high percentage of ELHT inpatients respond to the NHS Friends and Family Test is down to our Ward staff. They are committed to providing the best possible patient experience and encourage inpatients to provide feedback on their hospital experience," says ELHT Associate Director for Quality and Safety, Meg Davey.
Hospitals included in the outstanding survey results are the Royal Blackburn Teaching Hospital, Burnley General Teaching Hospital, Clitheroe Community Hospital, Accrington Victoria Community Hospitals and Pendle Community Hospital.
 
The NHS Friends and Family Test asks inpatients across England if they would recommend the ward to their nearest and dearest based on their own experience. Patients are asked the question: 'How likely are you to recommend our ward to friends and family if they needed similar care or treatment?'
"East Lancashire Hospitals are working hard to be an NHS organisation where quality of care, clinical improvement and patient safety underpins all of our services," added Kevin McGee.
"The NHS Friends and Family Test is one very important way in which our patients can have their say and provide us with valuable feedback to improve the service we provide even further."