Healthwatch Lancashire wins Excellence Award for patient led work in care homes
Healthwatch Lancashire has won a Clinical Commissioning Group (CCG) Excellence Award for its programme of work with the East Lancashire CCG Safeguarding team for its 'Mum's Test' pilot 'Improving outcomes through the service user voice'.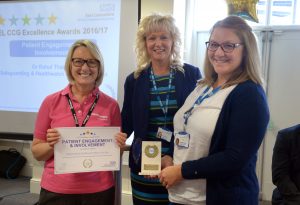 The programme of work ensured the voices of care home residents and their families were heard and also provided East Lancashire CCG access to independent and impartial feedback of care homes that they commission.
The purpose of this programme of work was to provide East Lancashire CCG with a true understanding of how its patients view and experience the care they receive and how, as commissioners, this can influence how they provide services.
A team of four Healthwatch Lancashire members of staff undertook multiple visits to care homes across East Lancashire over a period of 6 months.
Where service users had indicated improvements could be made, Healthwatch, in partnership with the CCG, supported the homes in achieving these improvements. This programme saw significant improvement of patient experience being implemented, often at minimal cost, by providers listening to the voice of the people they support.
The East Lancashire CCG Excellence Award for Patient Engagement and Involvement is awarded to organisations who have successfully introduced a change in working practices to better patient engagement and involvement, resulting in improved patient experience.
The CCG Excellence Awards were first launched in 2014 and due to their success, it was agreed the Awards would become an annual event. 
Sheralee Turner-Birchall, Chief Executive at Healthwatch Lancashire, said: "It is wonderful to gain recognition for our outstanding and creative methods of delivering programmes of work to capture the voice of the people and to be able to influence service improvement and showcase best practice."
Jackie Hanson, chief nurse for East Lancashire CCG, stated: "This has been a fantastic example of how services can work together with patients to genuinely impact on how we deliver care and improve quality across the sector. This work will help guide how we commission and assure services in the future."