Healthwatch Lancashire to host series of 'Understanding Changes in the NHS' public events
Healthwatch Lancashire will host a series of public events to highlight changes to health and social care in your local area.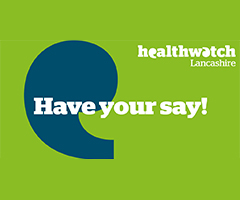 The 'Understanding Changes in the NHS' events will give people an opportunity to find out more about the work of the Healthier Lancashire and South Cumbria Sustainability and Transformation Partnership, known as Healthier Lancashire and South Cumbria.
Clinical leaders from the programme will be in attendance to answer any questions about the future of services in your area and members of the public are invited to get involved and have your say.
These events are not only a great opportunity to find what changes are taking place, but also to ensure that local people's views are heard when it comes to changing how care is delivered locally.
Information about the events can be found below:
Event 1
Where: St. Ambrose Church, Leyland
When: 12th September 2017, 6-8pm
Event 2
Where: South Shore Community Centre, Blackpool
When: 26th September 2017, 6-8pm
If you are a member of/work for a community, voluntary, not-for-profit or third sector organisation within Lancashire, there will be a series of dedicated events later in the year. You can register your interest at the contact details below.
NHS and local authorities are working across five areas to improve services, these are Morecambe Bay, Pennine Lancashire, West Lancashire, Central Lancashire and Fylde Coast. They provide a way in which all organisations and groups involved in health and care can join up to improve outcomes and care for local people, reduce pressures on services and make best use of financial resources.
Healthwatch Lancashire will continue to ensure that views of the public are listened to through representation on the Healthier Lancashire and South Cumbria Programme Board and through links with these local programmes.
For more information and to book a place at one of these events, please contact Healthwatch Lancashire on: info@healthwatchlancashire.co.uk or call 01524 239100.
If you have been affected by any changes in your local area, we want to hear your stories. You can share your views on changes to health and social care at any time via the Healthwatch Lancashire website at: https://healthwatchlancashire.co.uk/policy-changes/