Healthwatch Lancashire takes innovative approach to share best practice findings in care homes
Healthwatch Lancashire has shared its findings of best practice observed through its care home programme of Enter & View visits.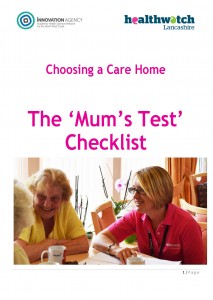 The findings feature in two documents: Choosing a Care Home: The 'Mum's Test' Checklist, which assists those undertaking their own 'Mum's Test' when seeking a suitable nursing or residential care home for themselves or a loved one, and; The Mum's Test: Good Practice Observations from Lancashire's Residential Care & Nursing Home Sector, which aids providers, managers or owners of residential care or nursing homes in comparing best practice if they desire to make changes.
Healthwatch Lancashire were able to provide this information as part of its innovative 360-degree evaluation of its Enter & View programme through funding provided by the Innovation Agency, the Academic Health Science Network for the North West Coast.
The evaluation focussed on whether the Enter & View visits achieved its objectives to provide insight into the views of people residing in care homes across Lancashire, maintaining the programme's philosophy of being inclusive and providing independent, constructive feedback that supports service improvement.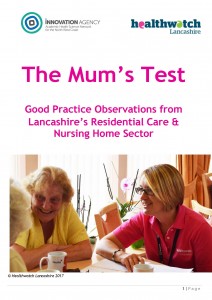 Since commencement in September 2015, Healthwatch Lancashire's Care Home Sector Enter & View programme has not only supported service improvement in care homes, but has also improved its mechanisms for sharing of intelligence with local NHS and Local Authority Adult Social Care teams in Lancashire.
In addition, Care Quality Commission (CQC) inspection managers have commended the programme stating that its innovative approach adds value to their local inspections.
The Programme is designed to provide the public with a layperson's perspective of the care home sector in Lancashire.
Sheralee Turner-Birchall, Chief Executive at Healthwatch Lancashire, said: "Healthwatch Lancashire contributes considerable value into the health and social care system by gathering patients, service users and relatives input into the way services are run. This can be invaluable as sometimes seeing services from their point of view opens up real opportunities for improvement that may not have already been considered.
"Our innovative 360 degree impact assessment has enabled us to take stock of how we are helping to make a difference for service users and, as a result, these two new Mum's Test documents will provide really useful for people seeking a care home for themselves or a loved one, or organisations wishing to improve their provision of care."
Innovation Agency Chief Executive, Dr Liz Mear, said: "Care homes are an important part of the health system and the aim of the work we carried out with Healthwatch is two-fold; to help families find the best care for their relatives; and to drive up standards in the quality and safety of services for some of the more vulnerable people in our community."
Choosing a Care Home: The 'Mum's Test' Checklist and The Mum's Test: Good Practice Observations from Lancashire's Residential Care & Nursing Home Sector are available to read and download on the Healthwatch Lancashire website at www.healthwatchlancashire.co.uk/reports