Healthwatch Lancashire speak to service users at Blackpool Victoria Hospital
Healthwatch Lancashire has published a 'Patient Engagement Day' report, which captures the experiences of service users at Blackpool Victoria Hospital.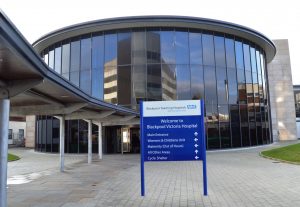 On Friday 20th ad Thursday 26thJanuary 2017, two Healthwatch Lancashire representatives gathered survey responses from patients at Blackpool Victoria Hospital A&E department, to obtain the views of people using the service and to observe the environment.
46% of the patients we spoke to did not speak to anybody before attending A&E, although 27% had been advised by their GP, 13% by the walk-in centre, 7% had phoned 999 and 7% had phoned NHS 111.
Of those that spoke to a health professional, all were advised to attend A&E.
80% of patients we spoke to were happy with the service they had received so far. 20% were not happy with the service, with waiting times being the main issue raised.
The report includes feedback and a list of two actions from Blackpool Teaching Hospitals NHS Foundation Trust.
Sheralee Turner-Birchall, Chief Executive at Healthwatch Lancashire, said: "Healthwatch Lancashire contributes considerable value into the health and social care system by gathering patient and relatives input into the way services are run. This can be invaluable as sometimes seeing services from their point of view opens up real opportunities for improvement that may not have already been considered.
"Healthwatch Lancashire would like to thank Blackpool Teaching Hospitals NHS Foundation Trust for their response to the report and for any actions which are put in place as a result of our findings."
The Report for the Patient Engagement Day at Blackpool Victoria Hospital is available to read and download on the Healthwatch Lancashire website www.healthwatchlancashire.co.uk/reports