Healthwatch Lancashire & Progress Lifeline work together to become Dementia Friends
Healthwatch Lancashire's Engagement Officer, Sue Turley, visited Progress Lifeline's head offices and monitoring centre in Leyland, Lancashire on Wednesday 17th October to deliver a Dementia Friends information session.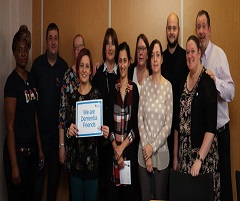 The Dementia Friends session was the third in a series of planned workshops, which will see all staff at the Lancashire-based technology enabled care (TEC) and remote monitoring service become Dementia Friends.
The hour-long training session delivered by Sue is designed to change the negative perceptions of dementia, removes the fear and stigma associated with the condition and has already encouraged employees at Progress Lifeline to turn their understanding of dementia into practical actions to support people living with the disease and make accessing products and services a comfortable and positive experience for customers.
So far half of the 117-strong Progress Lifeline workforce have already undertaken the Dementia Friends information sessions, with the rest due to complete the dementia training by April 2019.
Sue Turley, Engagement Officer at Healthwatch Lancashire and Dementia Friends Champion, commented: "I'm proud to be supporting Progress Lifeline in their commitment to providing the best quality of service to their customers and their families and carers who are living with dementia."
Mandy Helm, Quality and Training Co-ordinator at Progress Lifeline, who organises the Dementia Friends sessions delivered by Sue at Healthwatch Lancashire, added:
"With so many of our Progress Lifeline personal alarm customers living with dementia, Progress Lifeline is committed and dedicated to providing the best quality service to our customers. This includes having staff that are caring and compassionate, with an understanding of what living with dementia is like for our customers and their families. Progress Lifeline is proud to make the commitment that all Progress Lifeline staff will undertake Dementia Friends training, so that customers can be confident that they will receive a dementia-friendly service."
Simon Evans, Progress Lifeline's Emergency Home Response Team Leader, one of the attendees at Sue's Dementia Friends workshop said afterwards: "After attending the dementia training, Simon Evans, Progress Lifeline's Emergency Home Response Team Leader, said: "The Dementia Friends training made me think about how we can change the way we listen, communicate and react to people to make them more comfortable and put them at ease."