Healthwatch Lancashire presents the impact of its work in care homes at national Healthwatch conference
Healthwatch Lancashire has presented the impact of its work in care homes in a presentation at the annual Healthwatch Conference 2017 in Nottingham.
The aim of the presentation at the July event was to share experiencesof measuring the impact of our Enter and View programme of workacross care homes in Lancashire.
The presentation focused on sharing experiences from a 'little and large perspective' with Healthwatch Lancashire teaming up with Healthwatch Knowsley to offer varying perspectives.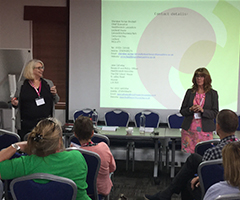 Both local Healthwatch highlighted the fact that the Enter and View programme emphasises the importance of the service user's voice in influencing service improvement.
The presentation linked in to findings in Healthwatch Lancashire's 'Mum's Test' documents that were recently published.
The findings feature in two documents: Choosing a Care Home: The 'Mum's Test' Checklist, which assists those undertaking their own 'Mum's Test' when seeking a suitable nursing or residential care home for themselves or a loved one, and; The Mum's Test: Good Practice Observations from Lancashire's Residential Care & Nursing Home Sector, which aids providers, managers or owners of residential care or nursing homes in comparing best practice if they desire to make changes.
Since beginning in September 2015, Healthwatch Lancashire's Care Home Sector Enter & View programme has not only supported service improvement in care homes, but has also been able to improve its mechanisms for sharing of intelligence with local NHS and Local Authority Adult Social Care teams throughout Lancashire.
Sheralee Turner-Birchall, Chief Executive at Healthwatch Lancashire, said: "We were delighted to present at the Healthwatch Conference 2017 alongside our colleagues at Healthwatch Knowsley and share our experiences with our Healthwatch colleagues nationally.
"Our innovative 360-degree impact assessment has enabled us to take stock of how we are helping to make a difference for service users and, as a result, these two new Mum's Test documents will provide really useful for people seeking a care home for themselves or a loved one, or organisations wishing to improve their provision of care."
Both reports, Choosing a Care Home: The 'Mum's Test' Checklist and The Mum's Test: Good Practice Observations from Lancashire's Residential Care & Nursing Home Sector are available to read and download on the Healthwatch Lancashire website at http://www.healthwatchlancashire.co.uk/reports/reports