Healthwatch Lancashire highlights the voice of GP patients
Healthwatch Lancashire has published a new report that highlights the feedback from 851 patients we spoke to in GP waiting rooms.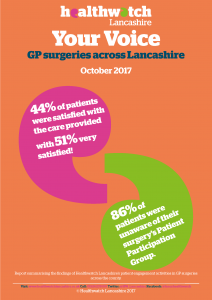 The aim of this project was to investigate some of the challenges patients have faced when attempting to access health care within their GP surgeries.
The three key themes highlighted were; satisfaction with the level of care received from their practice, issues with booking appointments and lack of awareness of Patient Participation Groups.
On average, the vast majority of patients said they were either satisfied (44%) or very satisfied (51%) with the care provided at their GP practice.
However, 50% of the public we spoke to across 25 surgeries in the county struggled to get an urgent appointment on the same day, whilst 21% struggled to get routine appointments.
And whilst 46% said their experience of booking appointments at their GP surgery was excellent, 39% said there could be improvements and 15% felt the service was poor. The majority of patients (88%) did not use their surgery's online booking system.
It also emerged that there was a trend across Lancashire that patients were unaware of their GP surgery's Patient Participation Group with 86% of patients unaware of the service.
Healthwatch Lancashire shared its findings with six Clinical Commissioning Groups (CCG) and the Healthier Lancashire and South Cumbria Change Programme.
This resulted in a response from two of the CCGs and the Healthier Lancashire and South Cumbria Change Programme.
Sheralee Turner-Birchall, Chief Executive at Healthwatch Lancashire, said: "GP surgeries are often the first port of call for many people and our GP services have an important role to play in services delivered in the community. 
"It is therefore vitally important that GP's and the commissioners, especially at a time when primary care services are experiencing increasing pressures in relation to reduced numbers in the GP and nursing workforce, tighter budgets and growing demands, listen to their patients to understand what matters to them and that their expectations are considered and managed.
"Whilst our report echoes local and national issues regarding access to appointments, it also highlights significant issues with people accessing the on-line GP systems and a lack of awareness of Patient Participation Groups.  
"Patient involvement is crucial in helping GP's and the commissioners understand what is and is not working well and patients and their families are they often best placed to offer solutions to the issues they encounter.  I would strongly urge GP practices to consider how they enable their patients to get meaningfully involved in their practice."
The full report, 'Your Voice: GP Surgeries across Lancashire' can be read and downloaded online at: www.healthwatchlancashire.co.uk/reports/reports via the 'Healthwatch Project Reports' tab.