Healthwatch Lancashire and Clifton Hospital work together to become Dementia Friends
Healthwatch Lancashire's Engagement Officer, Sue Turley, visited Clifton Hospital which is part of the Blackpool Teaching Hospitals NHS Foundation Trust, Lytham, St Annes on Thursday 25th April to deliver a Dementia Friends information session.
The hour-long training session delivered by Sue is designed to change the negative perceptions of dementia, removes the fear and stigma associated with the condition. This session was the first step of a greater mission to have all staff at Clifton Hospital, trained as Dementia Friends.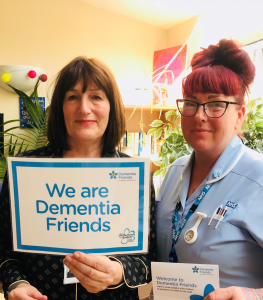 Sue Turley, Engagement Officer at Healthwatch Lancashire and Dementia Friends Champion, commented: "I'm proud to be supporting Clifton Hospital in their commitment to providing the best quality of service and support for their patients. I was inspired by the team and their ways of working to support people through rehabilitation."
Francesca Hall, Ward Sister and Dementia & falls champion at Clifton Hospital, organiser of the Dementia Friends sessions delivered by Sue at Healthwatch Lancashire, added:
"Thank you for coming and delivering our first dementia friends session, the number of staff in attendance was brilliant and their feedback was very positive.
It is my mission to get all Clifton staff & Atlas staff to become a Dementia Friend; we look forward to our next session during Dementia Action Week."
For more information on becoming a Dementia Friend visit: www.dementiafriends.org.uk