Healthwatch Lancashire and Blackpool capture views about screening and immunisation programmes
Healthwatch Lancashire has published three reports which capture views from the public and seldom heard groups about access to, and experiences of, cervical screening, flu jabs and other immunisation programmes.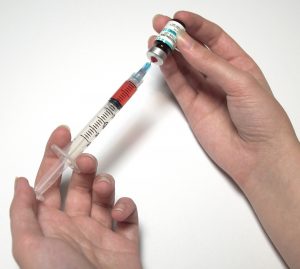 A need was identified from our engagement and intelligence to undertake public and patient engagement to support potential changes to service delivery regarding uptake of screening and immunisation programmes.
During this project Healthwatch Lancashire, Healthwatch Blackpool and Healthwatch Blackburn with Darwen received feedback from 245 women through engagement activities in the community and an online survey, as well as from a further 60 offenders across 4 prisons and 14 men and women from travelling communities.
Key findings from the three reports show that:
50% of women reported that the main barriers to attending a cervical screening were fear and embarrassment. 31% gave a combination of barriers, the most common being an 'it won't happen to me' culture.
30% of the Traveller women who shared their views on barriers to accessing screening services mentioned fear, whilst 40% mentioned embarrassment or feeling ashamed. 20% of women indicated that they didn't feel any personal barriers to accessing this screening programme.
54% of prisoners reported that they had not received any screening or immunisations inside prison. 33% reported that they had taken up all screening and immunisation programmes that had been offered to them but could not remember them all, their answers included: Hepatitis B/C (mentioned by 53%) and the flu jab (mentioned by 30%).
Sheralee Turner-Birchall, Chief Executive at Healthwatch Lancashire, said: "Healthwatch Lancashire is committed to listening to patients and members of the public in Lancashire and making sure their views and experiences are heard by those who run, plan and regulate health and social care services.
"These reports help us to identify areas where screening and immunisation services, or access to these services, can be improved based on the views of those who are using them; not just from the general public but also from seldom-heard communities. Their voices will enable us to challenge providers about screening and immunisation services off the back of significant intelligence we have received."
A response from NHS England read: "Screening and immunisation programmes have an important role to play in improving public health outcomes, reducing health inequalities, and contributing to a more sustainable public health, health and care system. 
"NHS England North (Lancashire and South Cumbria) asked Healthwatch Lancashire to carry out this work on our behalf, in order to develop a better understanding of the barriers to people taking up screening and immunisation. 
"We would like to thank Healthwatch Lancashire for producing this report, which will be used to learn lessons and improve the delivery of screening and immunisation services for residents of Lancashire and South Cumbria."
The three reports 'Cervical Screening in Lancashire', 'Screening and Immunisation in the Traveller Community' and 'Screening and Immunisation in Lancashire Prisons' can be read and downloaded online at www.healthwatchlancashire.co.uk/reports in the 'Special Reports' section.