East Lancashire NHS Trust Launch New Information Booklet On Wards
East Lancashire Hospitals NHS Trust (ELHT) has published a new information guide to assist inpatients and their relatives/carers during hospital stays.
Patients who are admitted for more than one day in hospitals will be given the booklet which contains handy information about the hospital experience and seeks to answer many of the non-medical questions frequently asked by inpatients.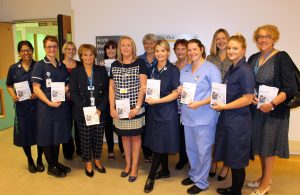 Among the useful information is a diagram which helps to identify ward staff by the colour of their uniform. There's also guidance on visiting times, parking, telephone numbers, good hygiene practice and the importance of protected mealtimes.
There's even a useful checklist to help patients and their carers prepare for discharge from hospital and make sure they have everything in place for when they return home.
Supported by Blackburn with Darwen Carers, Healthwatch Lancashire and Healthwatch Blackburn with Darwen, the new guide is initially being given to patients admitted to the Acute Medical Units (A and B) and the Surgical Triage Unit, with plans to add more wards in the near future.
"Being admitted to hospital – especially if your admission is unexpected following an emergency – can be confusing for people," says ELHT Senior Patient Experience Facilitator, Melissa Almond.
"Most inpatients are unfamiliar with life on a hospital ward, so we've produced this self-help guide to provide advice and guidance for patients, families and carers."
Healthwatch Lancashire volunteer, Liz Butterworth, was part of the Task and Finish Group who helped develop the content for the new pamphlet. Liz was invited to the launch of the brand new patient resource at the Royal Blackburn Hospital last week, and she said: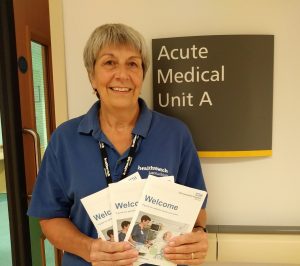 "It's been a privilege to be involved in this project with East Lancashire Hospitals NHS Trust. Coming into hospital can be a frightening and bewildering experience and this booklet has lots of helpful information that can help reduce stress and anxiety for patients."
"Being a Healthwatch volunteer and also being involved in the development of this booklet has given me the opportunity to promote the patients voice and improve the whole patient experience – something I care very deeply about."
Volunteers play a huge role in helping Healthwatch Lancashire on a variety of engagement projects throughout the year. Whether it is out on the Chatty Van or participating in our scheduled Enter and Views.
If you have some free time and would like to get involved, please get in touch about our current Volunteering opportunities here: