An Enter and View report has been published for Belmont in Longridge
Healthwatch Lancashire has published an 'Enter and View' report, which captures and reflects the views of service users at Belmont in Longridge.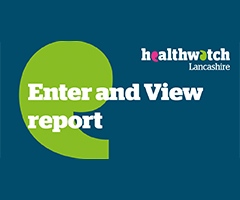 Healthwatch Lancashire's innovative programme of 'Enter & View' delivers a 'mum's test' approach, gathering views of patients, relatives and staff to provide an answer to the question: 'Would you want your loved ones to be cared for in this service?'
'Enter and View' is the opportunity for our authorised Healthwatch Lancashire representatives to go into health and social care premises to collect the views of patients, relatives and staff at the point of service delivery and observe the nature and quality of services.
Legislation allows local Healthwatch organisations to undertake 'Enter and View' visits in NHS organisations, GPs, dentists, opticians and community pharmacists. They are also permitted to conduct the visits with bodies or institutions which are contracted by local authorities or the NHS to provide health or care services such as adult social care homes or day-care centres.
Healthwatch Lancashire Chief Executive, Sheralee Turner-Birchall, comments: "Enter and View provides the opportunity to listen to the experiences of people using those services and the findings of the report can be used to identify areas where the service is performing well and understand where services can be improved."