Healthwatch Lancashire's Summer newsletter is out now!
Healthwatch Lancashire's Summer newsletter is now available to read and download.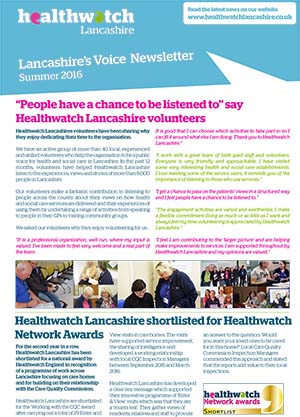 The newsletter highlights some great recent achievements from Healthwatch Lancashire.
The newsletter features articles about why our volunteers dedicate their time to Healthwatch Lancashire, reports on access to flu vaccinations in Lancashire's pharmacies, our contribution to NHS England's Person-Centred Project and findings from our Macmillan Cancer Support and Healthwatch on tour events.
Healthwatch Lancashire Communications Manager, Neil Greaves, said: "The Lancashire's Voice Newsletter is our opportunity to highlight some of the important work being carried out by our volunteers and the team which is making a real difference for people using health and social care services across Lancashire."
To read and download the Summer Newsletter, please click here.