Healthwatch Lancashire has a number of tools for engaging with members of the public to gather their views and experiences.
Our regular activities include: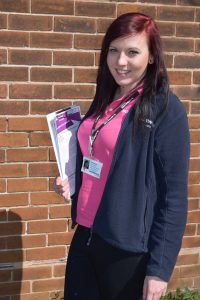 Enter & View 
Healthwatch Lancashire's innovative programme of 'Enter & View' delivers a 'mum's test' approach, gathering views of patients, relatives and staff to provide an answer to the question: 'Would you want your loved ones to be cared for in this service?'
'Enter and View' is the opportunity for our authorised Healthwatch Lancashire representatives to go into health and social care premises to collect the views of patients, relatives and staff at the point of service delivery and observe the nature and quality of services.
Legislation allows local Healthwatch organisations to undertake 'Enter and View' visits in NHS organisations, GPs, dentists, opticians and community pharmacists. They are also permitted to conduct the visits with bodies or institutions which are contracted by local authorities or the NHS to provide health or care services such as adult social care homes or day-care centres.
Our Enter and View authorised representatives can be found below:
Staff
Michele Chapman
Nick Colledge
Amanda Higgins
Lesley Miller
Jeanette Newman
Kerry Prescott
Volunteers
Roy Banks
David Barnett
Carol Benabda
Linda Broomhead
Liz Butterworth
Jeannie Colhoun
Bernice Crawshaw
Efeosa Ejah
Bev Evans
Gill Green
Bob Harbin
Liz Housden
Doreen Lee
Jacqui Vella
Lynn Yates 
Patient Engagement Days 
The Healthwatch Lancashire team visit health and social care services to speak to people and listen to their experiences.
Our Patient Engagement Day project was established in 2015 and sees team approach to gathering feedback from local people about services in order to understand people's experiences on a particular day and to use the information we receive to influence service improvement.
Healthwatch Lancashire has published 13 Patient Engagement Day reports as of 31st March 2016 with responses and actions being undertaken shared as a result by East Lancashire Hospitals NHS Trust, Lancashire Teaching Hospitals NHS Foundation Trust, University Hospitals of Morecambe Bay NHS Foundation Trust, Southport and Ormskirk Hospital NHS Trust, Blackpool Teaching Hospitals NHS Foundation Trust, Spiral Health CIC and Ramsay Health Care UK.
From May 2016, our Patient Engagement Day programme will focus on GP services.
Mystery Shopping
Healthwatch Lancashire staff and volunteers visit health and care providers anonymously, acting as though they are using the service. 
This enables the mystery shoppers to assess how well the providers perform, in terms of customer service and information provision. Mystery shoppers complete questionnaires after each visit, recording their findings.
Mystery shopping only shows us how the provider is performing on that particular day. Mystery shopping is also subjective, as shoppers record their personal view of how they are treated by the provider they visit. But it is great tool to use when we want to explore specific services in more depth. We often use it in combination with other types of research. 
Pop Ups
Members of the Healthwatch Lancashire team host regular Pop Up events across the county as a chance for members of the public to hear about the work we're doing, share views about areas of health and social care they think we should focus on, meet the team and share any experiences of health and social care in Lancashire.
Care Circles
We run a programme of Care Circle events taking place with community groups across Lancashire. These Care Circle activities allow the Healthwatch Lancashire team to listen to views from communities and seldom-heard groups which have included older people, carers, those with learning disabilities, those with visual or hearing impairments and young parents.
Reports from Healthwatch Lancashire's community engagement activities are published each month and shared with health and social care providers and commissioners.
Patients, service users and the public provide valuable insight into how services are performing, can be improved or delivered differently.
PLACE Assessments
Good environments matter but don't just happen. Patient-led Assessments of the Care Environment (PLACE) help hospital organisations understand how well they are meeting the needs of their patients and identify where improvements can be made.
Healthwatch Lancashire's volunteers have supported ten trusts and independent organisations by taking part in 35 days of PLACE assessments this year and the results have now been published by Health and Social Care Information Centre (HSCIC), the organisation responsible for ensuring all health settings conduct the assessments.
PLACE assessments are undertaken annually across all hospitals, hospices and independent treatment centres proving NHS funded care across the UK. 
Our funding


The funding for Healthwatch comes from the Department of Health, which is passed on to local authorities to commission local Healthwatch.
Our core funding for 2016/17 is £438,000.
Details of funding for 2016/17 is detailed in the Healthwatch Lancashire Annual Report 2016/17.